Gift Vouchers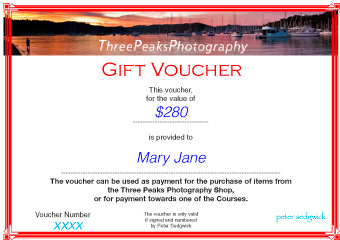 Why not spoil yourself, or someone you love, by giving a Gift Voucher from Three Peaks Photography.
Each voucher is fully personalised, and is available in two formats :

1. as a voucher for any value over $50, to be used to purchase any product or service from the Three Peaks Photography website

2. as a voucher for a specific service ie for a 2 day Photography Retreat, or a 1 day Field Trip. This voucher will entitle the recipient to participate in a fantastic course (click training to see all course details) in the superb surroundings of any one of our beautiful national settings, such as the Northern Beaches of Sydney or The Blue Mountains. They will be doing what they love the most - taking photographs and also improving their skills and technique.

The Voucher will be made up specifically to your request, and can include a photo that you supply if you wish. It will be mailed to the recipient within 3 days. They are valid for 12 months, so there is plenty of time to make the necessary arrangements if you are booking a Retreat.

To purchase a voucher

Click contact to purchase a voucher. You simply email the name and address of the recipient, which style of Voucher you are purchasing, and the amount you wish to provide. Please also include your own name and address and all contact details, so that I can inform you when the voucher has been sent. Payment is made in the usual way, by electronic transfer.